The weather conditions have changed rapidly in the Evros Delta, it is not infrequent. Since last night, the wind blows north northeast, gusting up to 70 km/h. It rained much all night and part of the day. The tops of the hills bordering the valley are covered with snow as the Greek side that Turkish. The temperature is around 3-4 ° C.
The data received every hour from the Bewick's Swan 854X equipped with a GPS/GSM transmitter indicate that it has not left the roosting place this morning. It is therefore not going to feed on the other side of the valley, in Turkey, as he is doing every day since his arrival in the Delta. Is it something happened? Or will he plays, as expected, the role of "sentinel" that allows us to detect broader phenomena?
4 pm, we left for the Drana lagoon and the marshes of Dimitriades to see what happens. The track is particularly muddy, but it works. After a couple of km, the show is unique: we are facing a sea of swan! Most have their head tucked into their plumage. The others face the storm, trying to resist on their powerful legs. Some are in the water but very close to the shore to avoid being swept away by the waves. Others are dry, on the upper parts of the salt marsh. They are mostly lying to offer the least possible resistance to gusts. It is a unique spectacle, so much swans in such meteorological conditions and in such natural habitats.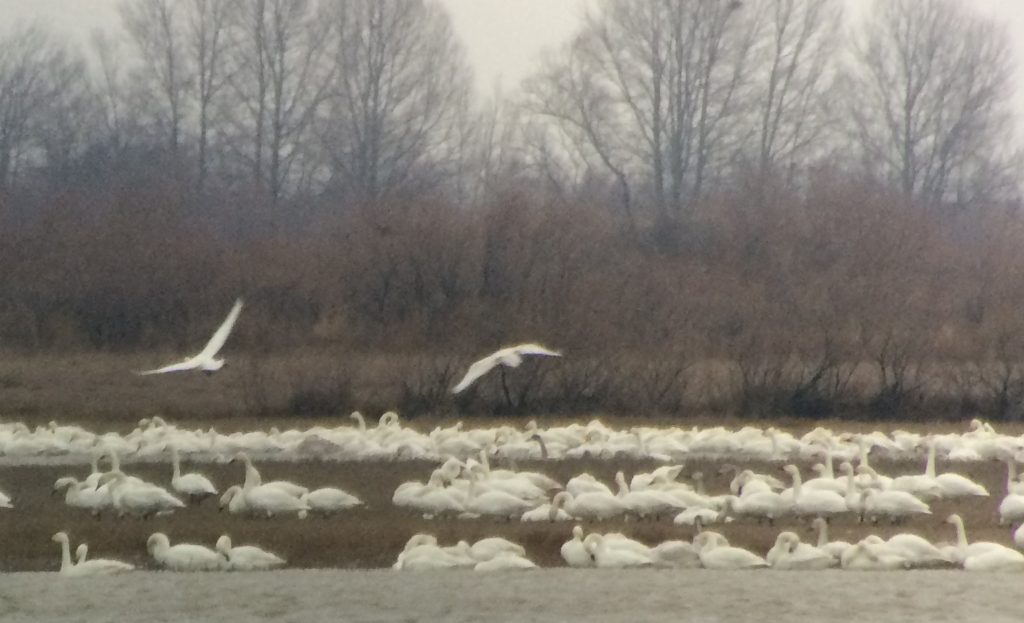 We estimate the number of Bewick's Swans to 8400 which must be added circa 150 Whooper Swans and 50 Mute Swans. It is a new maximum for Bewick's Swan for the site. But what happens in the Evros Delta? From where are these Bewick's Swans coming from? From Yamal like 854X or from another places in the tundra of Siberia? Russian colleagues are particularly attentive to the problematic, the Bewick's Swan is an endemic breeder of Russia. It focuses all the attention of the authorities and scientists in charge of the conservation of nature in the Russian Federation.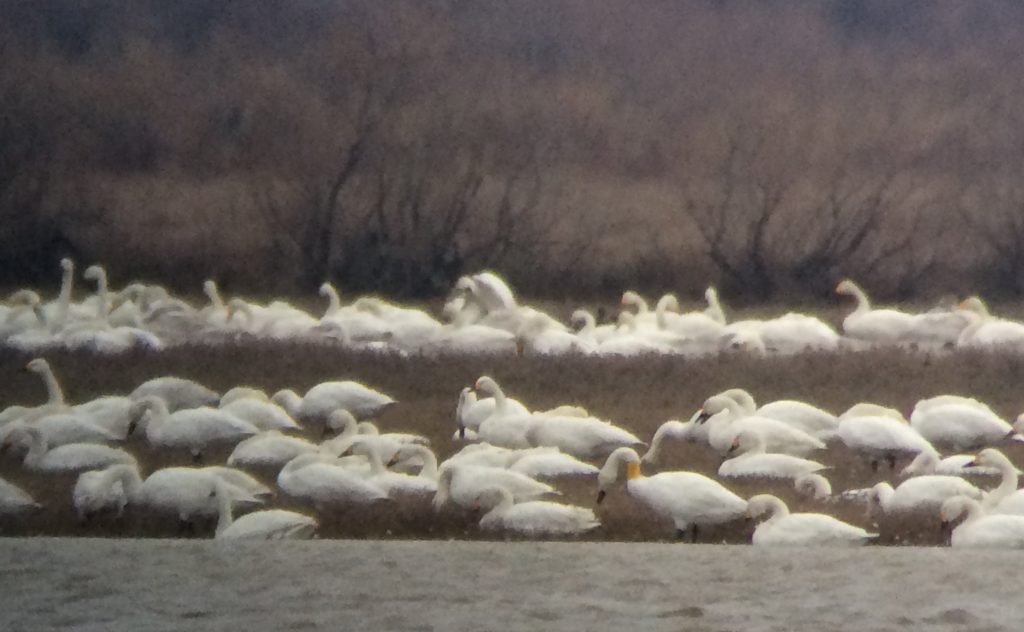 By watching and still watching this huge flock, our attention is drawn by a swan preening despite the strong wind. He stretches his neck, smooth, or rather try to smooth his feathers. It is marked with a yellow neckband engraved with a code enabling at distance identification. It is the fourth marked Bewick's Swan we observe in the Evros Delta. This has certainly been ringed in the Netherlands by colleagues from the Netherlands Institute of Ecology. Despite our best efforts, we didn't managed to read the code: it was not possible to come closer than 750 m, the light was fading to quick with the night falls, the wind vibrates the telescopes. We'll be back tomorrow to try to find him !