On 20 May 2021, the EU4Ocean Coalition launched the #MakeEUBlue campaign.
The Royal Belgian Institute of Natural Sciences (RBINS) has joined the EU4Ocean Coalition in 2020, as a founding member of the EU4Ocean Platform. As ocean research, monitoring and communication are important activities of RBINS, this was a logical step. In the EU4Ocean Platform, RBINS engages and collaborates with a diverse set of organisations and initiatives and mobilises its efforts in the field of ocean literacy.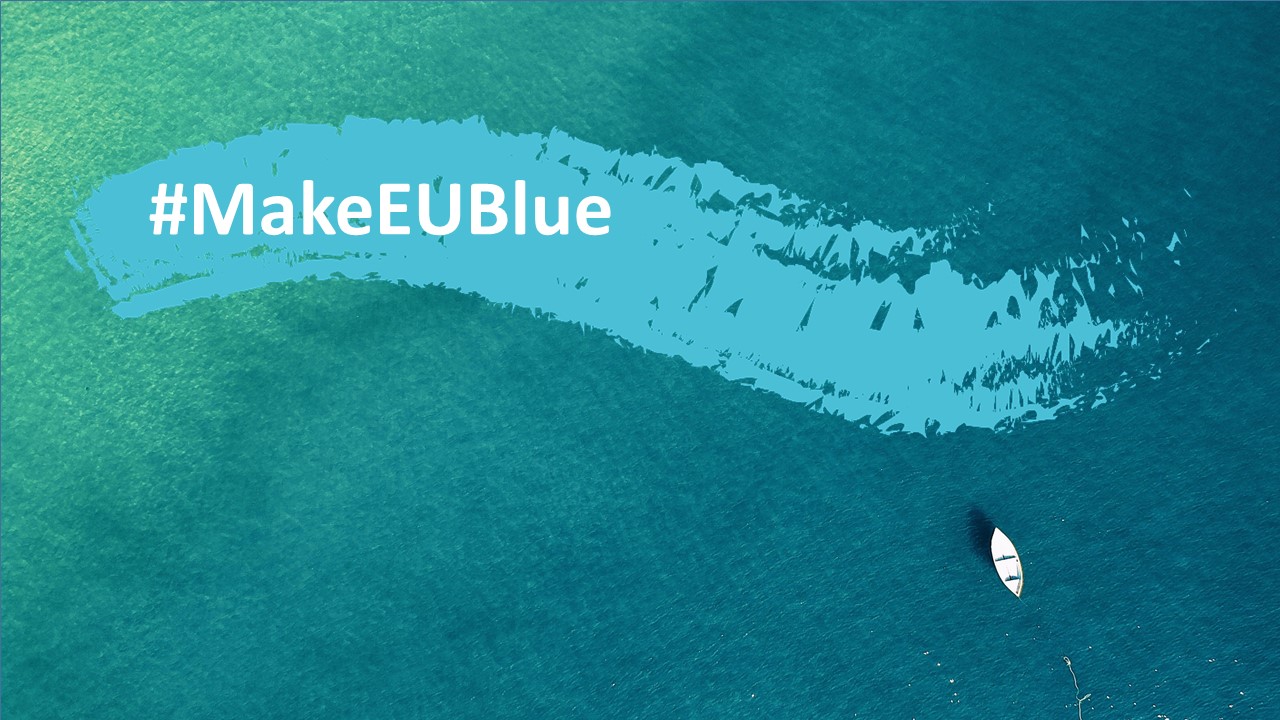 The Make Europe Blue Campaign
No matter where you live, what you do or the size of your contribution, we can all act together for a healthy ocean in Europe and beyond.
 Discover the Ocean
The ocean gives us life. Half the oxygen we breathe is generated from the ocean. The ocean regulates our climate, provides us with food, jobs and wellbeing. However, the ocean is in crisis from a multitude of threats including climate change, overfishing and pollution. No single action or entity can reverse this trend. Changing course requires us to work together, changing mind-sets and policies, as governments, business and individuals, on multiple fronts.
"Every action – even the smallest one – brings change to our ocean"
With a commitment from each and every one of us, we can protect the ocean and make Europe blue.
The Make Europe Blue campaign calls on us: citizens, businesses, organisations, authorities, celebrities, educators to make a pledge to help the ocean. Your pledge is a personal promise or action that will keep our ocean healthy.
As a citizen, you can avoid single-use plastics, only eat sustainably caught seafood, or support a charity/NGO working for a healthy ocean. As business, you can ban single-use plastics in the offices, or commit to ocean-friendly sourcing, such as avoiding products from deep-sea mining. As an educator, you can inspire pupils by implementing ocean-related projects. You choose!
Joining is easy
Visit the website: https://ec.europa.eu/make-europe-blue
Get inspired by exciting facts about the state of the ocean
Make an original pledge for the wellbeing of the ocean
Share it with others using the #MakeEUBlue hashtag
Any type of pledge that serves our ocean will be accepted, so use your imagination, get creative and – together – we will make this happen.
Inspire others
The more we are, the stronger we become. Share your pledge using the #MakeEUBlue hashtag. You can inspire those around you, and send a clear and simple message: We are acting for the ocean, are you? Make EU Blue!
If you are an individual, tag friends, families or peer groups. Challenging others to make a pledge can inspire them to take action
If you are an organisation or institution, communicate the campaign within your network, and amplify the campaign at events you are joining or hosting
If you are a celebrity, engage your followers to bring them on board!
If you are an educator, inspire the young generation