Offshore wind energy offers many advantages: next to the primary aim of renewable energy production, offshore wind farms also offer multi-use opportunities with nature conservation and aquaculture activities. The environmental impacts of wind farms in the North Sea are being studied in depth, with a great deal of attention already being paid to the introduction of new habitats, underwater noise and the exclusion of fisheries. However, the chemical impact of offshore wind farms remains largely unknown. The new Anemoi project will improve our understanding of this impact by (1) identifying relevant chemical emissions of known and unknown pollutants from offshore wind farms, (2) assessing the impact on the ecosystem and aquaculture activities, (3) reviewing current regulations and (4) proposing sustainable solutions and options to reduce chemical emissions from offshore wind farms.

Chemicals enter the marine environment through numerous land-based sources, related to industry, traffic or households, and activities at sea like shipping, mariculture, dredging and offshore energy.
In the upcoming four years (2023-2027), 11 European institutes will investigate the occurrence and impacts of chemical emissions from offshore wind farms in the North Sea. Wind turbine foundations contain corrosion protection systems, which leach metals such as aluminium or zinc into the sea. Paints on the turbines leach organic compounds into the water, while the paint can crack and flake from the turbines by wave motions, and plastic particles can be torn down from the turbine blades.
Objectives
Within Anemoi, an Interreg North Sea project, the emission, concentration and distribution of known and unknown chemical compounds in the water and sediments will be identified by means of field monitoring and lab experiments (e.g. by mimicking particle distribution in a wave flume system).
Secondly, the impact of chemical leachates from offshore wind farms on marine life and different aquaculture products will be assessed through ecotoxicology studies and risk assessments, and the effects at different trophic levels will be modelled for both single and mixed chemical compounds.
Thirdly, different regulations are currently in place at the national and European levels to limit the impact of chemical emissions from offshore wind farms. To further reduce the potential impact, the different regulations within the North Sea region will be reviewed and an aligned regulatory framework will be proposed. Finally, Anemoi will investigate sustainable and non-harmful solutions (e.g. alternative corrosion protection systems) and optimizations to further reduce chemical emissions from wind farms at sea.
A flying start
The fieldwork has already started. During a campaign at sea in the last week of April 2023, water and sediment samples have been collected at more than 40 locations. The sites sampled were located in and nearby wind farms in the Belgian marine waters as well as in reference areas at a larger distance from the offshore wind farms.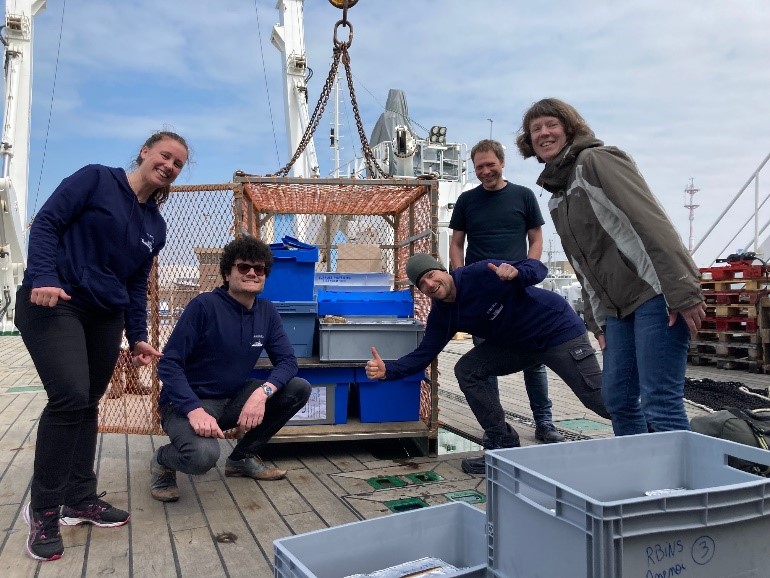 The accompanying photos illustrate the sampling work on board the RV Belgica by collaborators of RBINS and ILVO. Water samples were taken with a "MERCOS" sampler (from BSH) for the analysis of metals and with the "GIMPF" device (Geesthach Inert Microplastics Fractionator, from Helmholtz Centrum Hereon) for the analysis of microplastics.
Sediment samples were taken with a box corer for various analyses: metals, organic compounds and microplastics. Methods are completely harmonised with the work done during the cruise in the German marine waters in May 2023.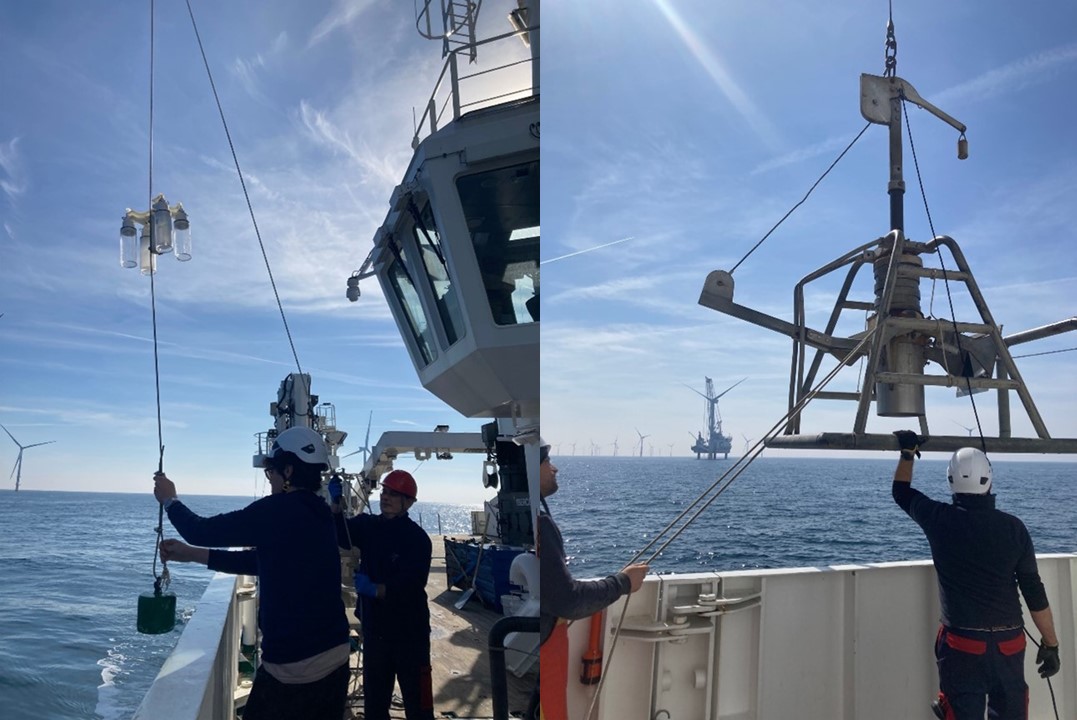 RBINS will analyse the quantity of microplastic particles, including paint particles, in the top layer of the sediments to identify the emissions of wind turbines and study the distribution of these particles within and nearby the wind farms.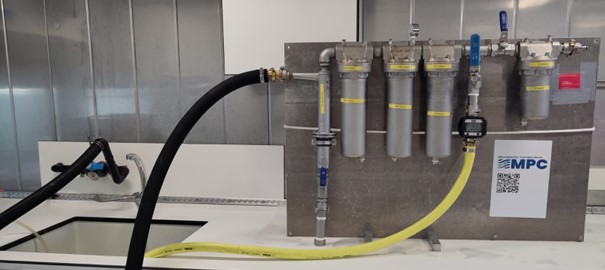 Cooperation is the key
To reach the project goals, Anemoi will work in close collaboration and interaction with the offshore wind farm sector and with policymakers. A first stakeholder event is foreseen on 30 and 31 May 2023 in Hamburg (Germany), to exchange knowledge on the effects and risks of chemical emissions from OWFs and to discuss potential solutions to further increase the sustainability of offshore wind energy.
The Anemoi project is funded by the Interreg North Sea programme, with co-funding from Provincie West-Vlaanderen (Belgium) and VLAIO (Belgium), and is coordinated by Flanders Research Institute for Agriculture, Fisheries and Food (ILVO, Belgium). Further information: website & LinkedIn.
Project partners: Royal Belgian Institute of Natural Sciences (RBINS, Belgium); Federal Maritime and Hydrographic Agency (BSH, Germany); Sintef Ocean AS (Norway); French Research Institute for Exploitation of the Sea (Ifremer, France); Provincial Development Agency West-Flanders (POM-WVl, Belgium); Foundation of Dutch Scientific Research Institutes – The Royal Netherlands Institute for Sea Research (NWO I – NIOZ, The Netherlands); Helmholtz Centrum Hereon (Hereon, Germany); University of Technology Braunschweig (TU BS, Germany); University of Antwerp (UAntwerp, Belgium); Technical University of Denmark (DTU, Denmark).