WinMon.BE @ at ULg Colloquium, Tue 18 May 2021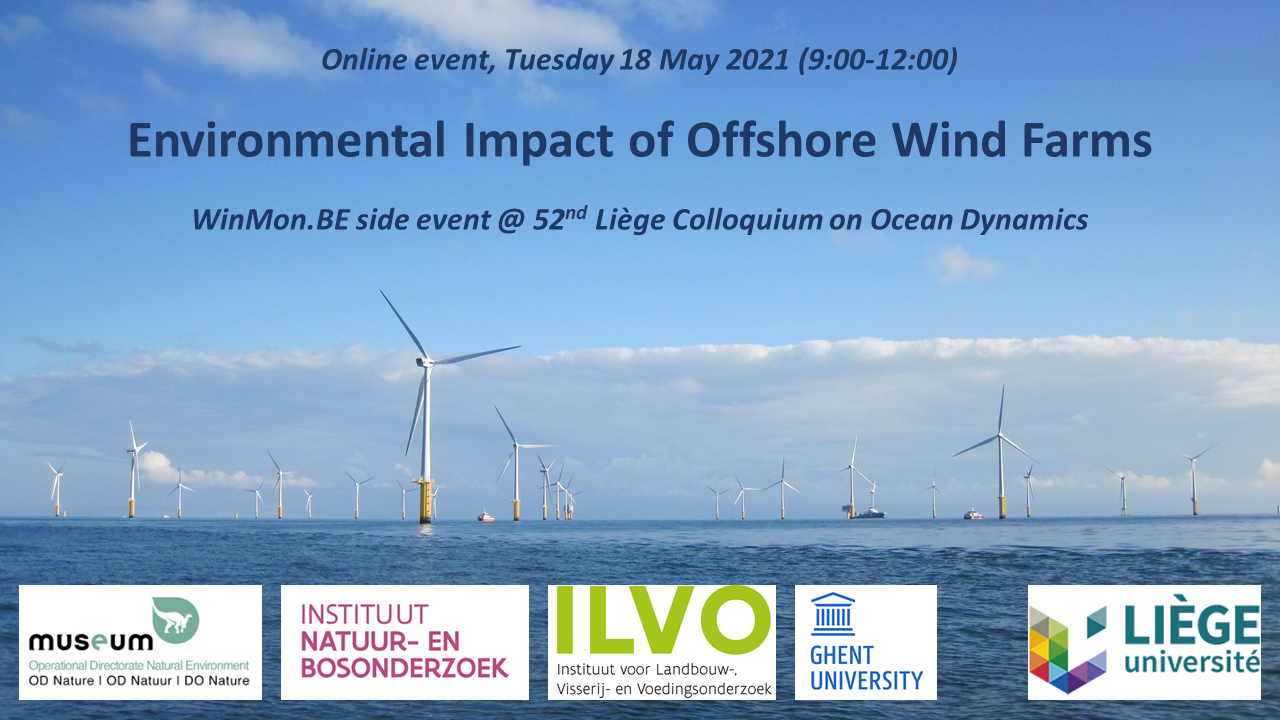 WinMon.BE, the Belgian offshore wind farm (OWF) environmental monitoring programme, started in 2008 and is coordinated by the Royal Belgian Institute of Natural Sciences (RBINS). RBINS and the WinMon.BE partners INBO (Research Institute for Nature and Forest), ILVO (Flanders Research Institute for Agriculture, Fisheries and Food) and Marbiol (Marine Biology Research Group at Ghent University), assess the extent of the anticipated impacts of offshore wind farms onto the marine ecosystem and aim at revealing the processes behind these impacts.
On May 18th, from 9:00 to 12:00, the WinMon.BE consortium is organizing an event to share and discuss results from the monitoring programme. This symposium is hosted as a side event of the 52nd Liège Colloquium on Ocean Dynamics (Towards an understanding and assessment of human impact on coastal marine environments, 17th – 21st of May 2021; http://labos.ulg.ac.be/gher/home/colloquium/colloquium-2021/), and will be conducted in English.
Lessons learned from the WinMon.BE programme will be presented, followed by a panel discussion. During the discussion, special attention will be paid to the science-management-policy nexus as how to best achieve an environment-friendly implementation and an ecosystem-based management of offshore renewables. This session is free of charge and targeted at scientists, industry, managers and policy makers.
Programme:
9:00 – 9:05: Welcome (Vincent Van Quickenborne – Minister of North Sea)
9:05 – 9:15: Introduction 'setting the scene' (Brigitte Lauwaert – RBINS)
9:15 – 9:40: Introductory keynote: 'Using a decade of WinMon.BE results to plan for the future' (Steven Degraer – RBINS)
9:40 – 9:50: 'Mytilisation / slimeification of the hard substrate fauna: the importance of long-term datasets for environmental impact assessment' (Mirta Zupan – RBINS)
9:50 – 10:00: 'Evolution of piling activities because of increasing insights in associated effects' (Bob Rumes – RBINS)
10:00 – 10:10: 'Innovative approaches and updated survey strategy to assess the impact of OWFs on seabirds' (Eric Stienen / Nicolas Vanermen – INBO)
10:10 – 10:25: Q&A
10:25 – 10:35: break
10:35 – 10:45: 'Possible conflicts between wind energy at sea and nature conservation' (Annelies De Backer – ILVO)
10:45 – 10:55: 'Functioning of the benthic ecosystem: organic enrichment and biogeochemical cycling' (Ulrike Braeckman – UGent)
10:55 – 11:10: Q&A
11:10 – 11:55: panel discussion 'BE: ready for accommodating the future of OWFs?'
11:55 – 12:00: closing remarks (Steven Degraer – RBINS)
Registration:
Participation to the WinMon.BE event is free of charge, but registration is required through the following link: http://labos.ulg.ac.be/gher/home/colloquium/colloquium-2021/registration/
More information on WinMon.BE:
Detailed information on the results of the WinMon.BE monitoring programme can be found in the annual reports on https://odnature.naturalsciences.be/mumm/en/windfarms/.