On Tuesday 24 November 2020, the Royal Belgian Institute of Natural Sciences (RBINS), Ghent University and the Research Institute for Agriculture, Fisheries and Food (ILVO) jointly organised the first Belgian Flat Oyster Day, as an online event.
A lot of information on several aspects of flat oyster restoration and aquaculture was presented during the event. The event demonstrated that an interest in flat oyster is emerging in Belgium, which was also illustrated by large audience (60+) that attended the event.
A report of the event has been compiled, containing the biographies of the speakers and the abstract of the presentations. Also the Q&A and poll results are included. Consult the report : Report_Belgian_Flat_Oyster_Day2020_Final.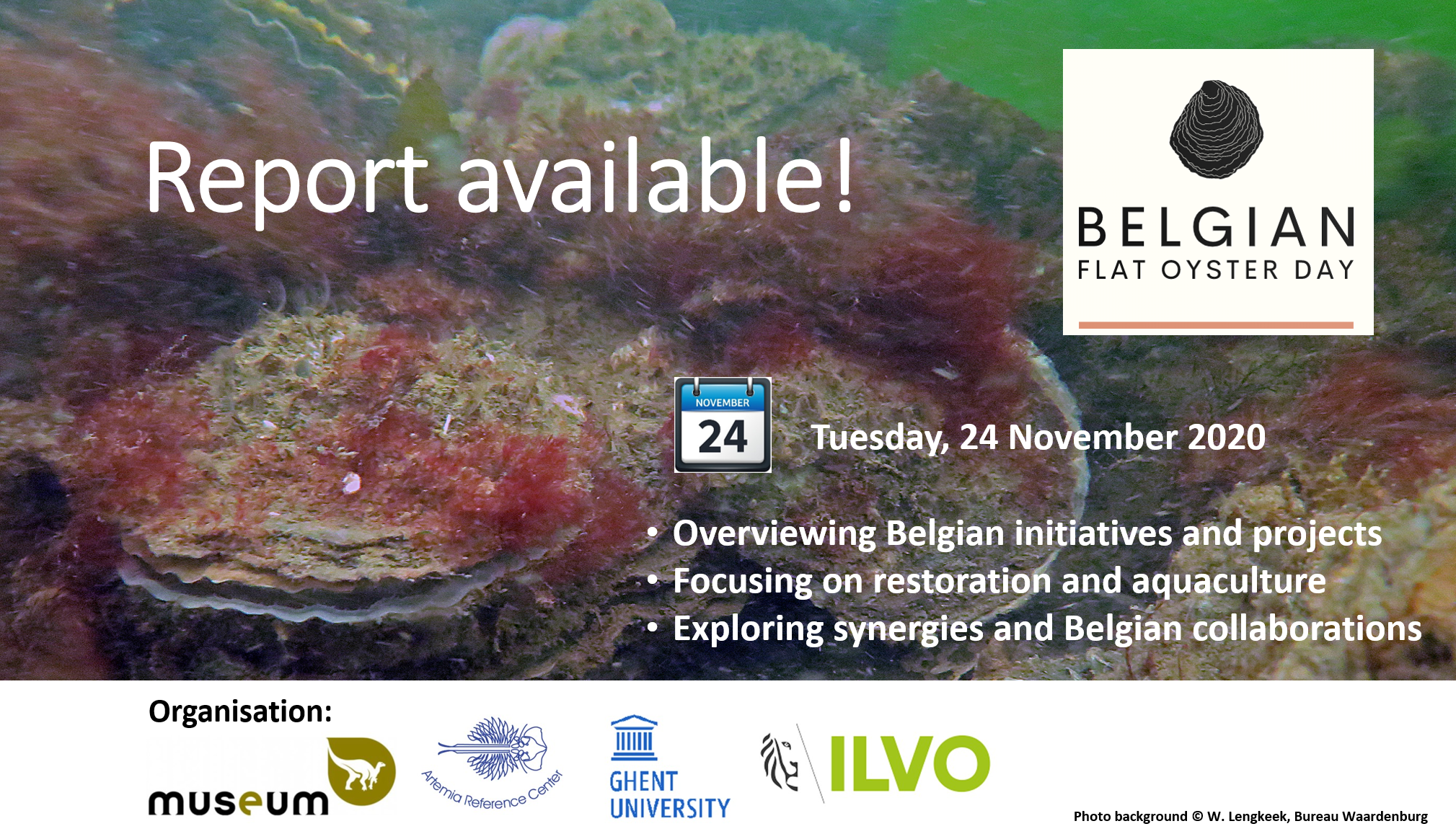 The presentations are also available under the following links (the links are also provided in the report).
Restoration of flat oyster reefs in Europe – Bernadette Pogoda (AWINORA)
Flat oyster aquaculture in Europe. An overview – Bérenger Colsoul (AWI)
Legal (environmental) requirements for flat oyster introduction in Belgium – Jan Haelters (RBINS)
Animal health requirements for flat oysters' movements – Chantal Rettigner (FASFC)
Restoration of flat oyster reefs. Vision on nature restoration – Yana Deschutter (FPS Environment)
Past projects – Value@Sea (EMFF) – Daan Delbare (ILVO)
Ongoing projects – SYMAPA (Blue Cluster) – Bert Groenendaal (Brevisco)
Ongoing projects – UNITED (H2020) – Nancy Nevejan (Ghent University)
Ongoing projects – BlueMarine³.Com (Blue Cluster) – Mathieu Wille (Ghent University)
Potential of flat oyster aquaculture – Patrick Sorgeloos (Vlaams Aquacultuurplatform)
European Flat Oyster in the North Sea, The Dutch Approach – Wouter Lengkeek (Bureau Waardenburg)
The interaction with the audience through the polls showed that there is a keen interest in the continuation of the Belgian Flat Oyster Day. In what format this will be, e.g. as a yearly event or as the creation of a Belgian Flat Oyster Consortium, in line with the Dutch initiative, is under consideration. To be continued.
We sincerely want to thank all speakers for their excellent presentations, and the audience for their attendance and enthusiastic participation in this online event!