Wednesday 13 July 2022
The art of standing still
Most of the Wednesday of the North Sea campaign of JPI Oceans' S4GES Joint Action was spent on one spot to follow a tidal cycle. This sounds easy and boring. Well, it is neither … Keeping a ship on position in a highly dynamic environment of tides, winds and currents is anything but trivial. However, as one of its modern features, the RV Belgica is equipped with outstanding maneuvering facilities (and the crew with the skills to make the most of them). Cutting-edge thrusters allow the ship to hold position with a meter-precision even at today's surface current speeds in the order of 1-2 knots. Also, operating light and delicate sampling gear in turbulent waters can be tricky. You clearly want to avoid that plankton nets and other gear deployed from the working deck at the Belgica's starboard side hits the hull or that cable gets entangled in a propellor. The navigation team on the bridge therefore rotated the ship steadily clockwise to cause an outward drift that keeps instruments safe from hitting the ship or they kept the ship strictly perpendicular to the current to prevent a flow along the sides of the ship. Impressive delicate handling of a 71-meter ship. It feels like playing a Paganini caprice on a double bass.
Same, same but different
Why did we spend the best part of a precious day at sea on that one station? Not just because we can, but because it made perfect scientific sense. Today's station complemented the previous stations. It brings us as close to a controlled experimental design as one can get with seagoing fieldwork. The station was little more than 30 meters deep, thus comparable to the stations yesterday and the day before. All were "deep" for the Southern Bight of the North Sea. However, the real-time remote sensing Ocean Colour imagery (check Tuesday's blog entry for more) showed high chlorophyll values, suggesting a biologically more dynamic setting than the previous deep stations. For consistent sampling, the researchers carried out their sampling routine again at maximum-minimum-maximum velocity of tidal currents at the site.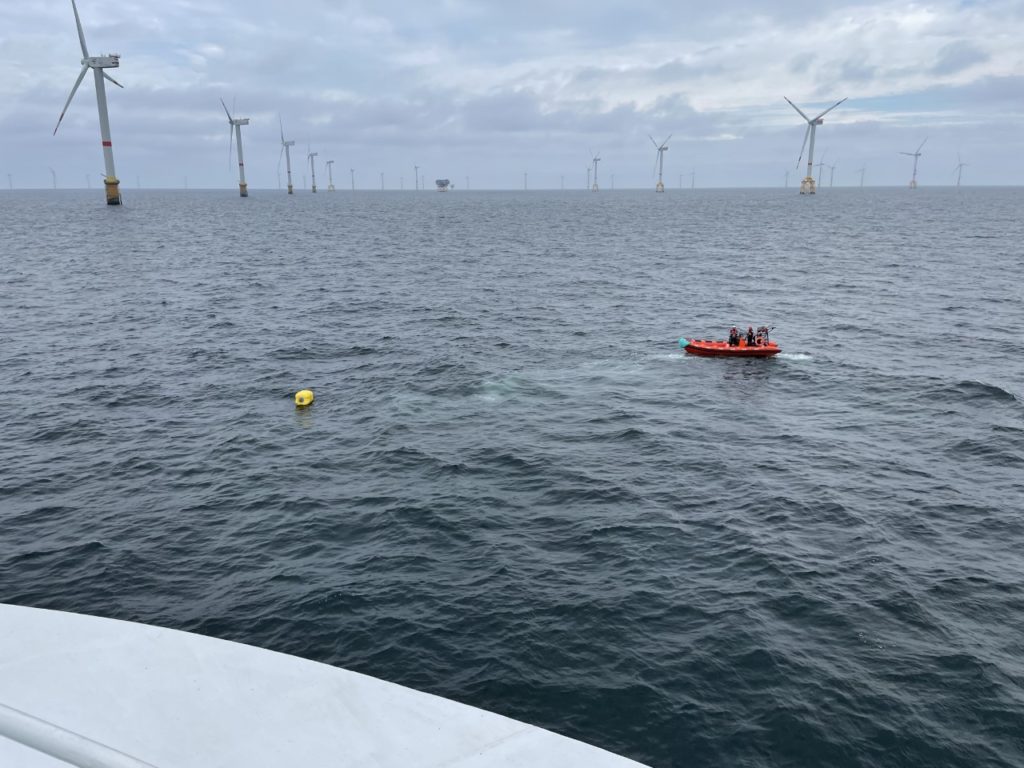 One tripod among a hundred plus wind turbines
On the programme for the late afternoon was a stroll through the forest – a forest of offshore wind turbines. Amidst this thoroughly impressive array for renewable energy generation, the ship navigated to a tiny yellow buoy marking the location of a tripod that was sitting at the seafloor for the last three weeks. The tripod was equipped with instruments to measure temperature and conductivity (and by implication salinity), current speeds all the way from near the seafloor to the surface, and turbidity and the related particle size spectrum. Furthermore, sediment traps collected sinking particles and a special camera photographed small organisms passing through. Good to know that the recovery of the tripod and its precious instruments went smoothly, for extraction of samples and data and maintenance of the whole array.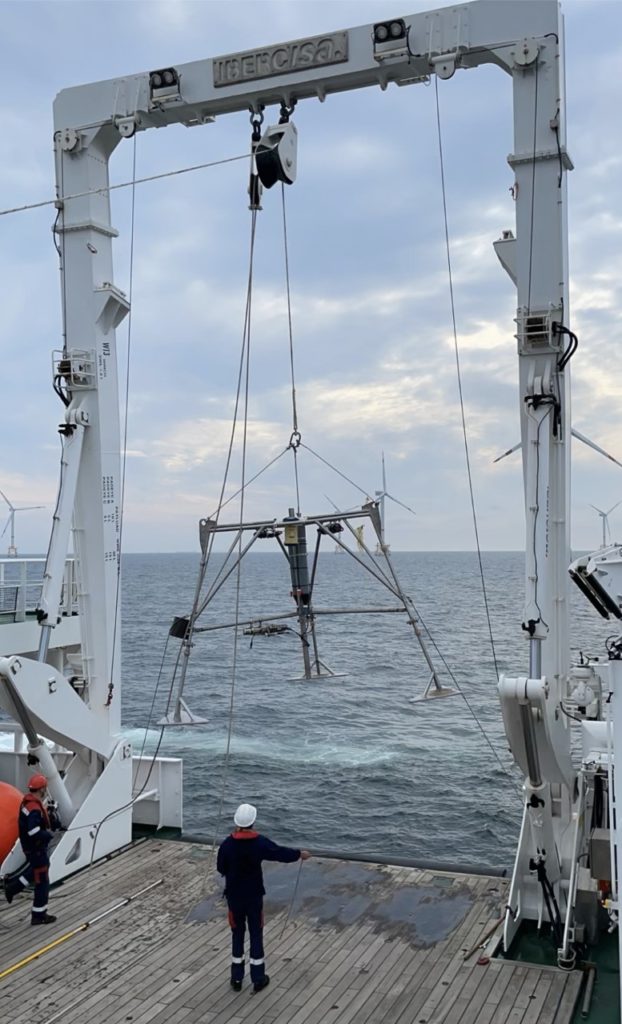 Artist speeding up
Our on-board artist Sarah-Marie Kröger changed gear into sketching mode today, speed-drawing live scenes of people working on deck and in labs. This was exploratory territory for her with respect to sketchy style and unsteady scenes. It was also probably a rare experience for the researchers having to walk around an artist placed in the middle of the lab and immersed in her craft. The researchers eventually got rewarded by being shown the drawings that depict them in action. The artist will hopefully get her reward by receiving many enthusiastic likes for the related social media posts in Instagram and Twitter, if you get the hint …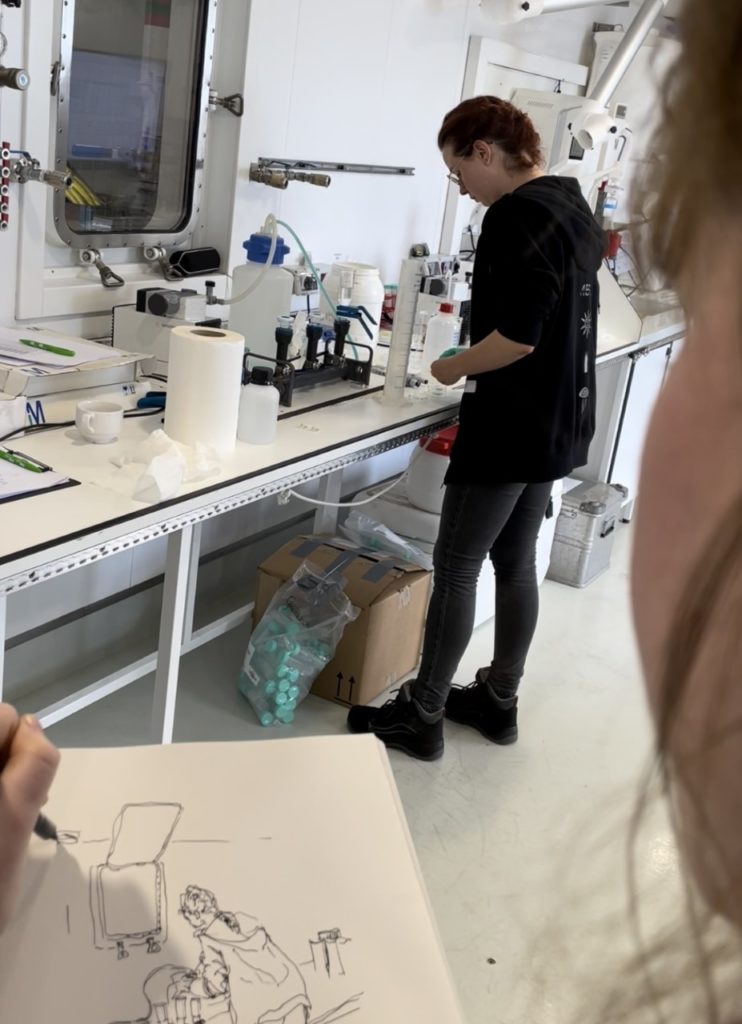 Text by Thorsten Kiefer (JPI Oceans) & Federico Falcini (CNR) – Images by Thorsten Kiefer (JPI Oceans)
Other blog posts in this series
S4GES at sea with RV Belgica (part 1)
S4GES at sea with RV Belgica (part 2)
S4GES at sea with RV Belgica (part4)
S4GES at sea with RV Belgica (part 5)