Friday 15 July 2022
Sampling extreme conditions on empty stomach
Friday was already the last day of the JPI Oceans-S4GES campaign with the RV Belgica. One last sampling station was squeezed in before breakfast. It was an opportunity to sample an area where the remote sensing Ocean Colour imagery showed extremely high chlorophyll values, possibly too high to be explained by biological processes alone. Analysing the water and plankton samples and the physical oceanographic and bio-optical data might allow the researchers to get to the bottom of the peculiarity of this high ocean colour regime, where inflow of inland waters with high nutrient load must play a crucial role.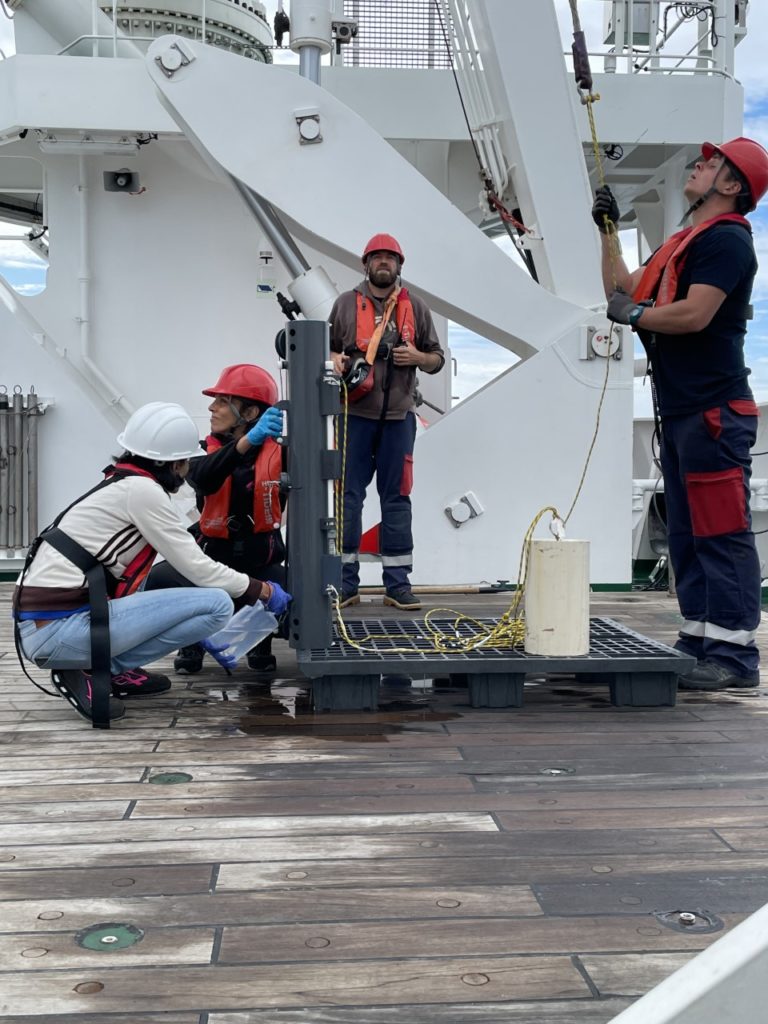 Italian culinary highlights on a Belgian ship
Friday morning presented itself with a culinary highlight in the form of a selection of Italian cakes baked by Italian researchers who, to everyone's delight, demonstrated that their outstanding talents go far beyond the seawater heavy metal analysis. And that was only the finale of Italian cooking on board. Dinner the night before had two versions of lasagne on the menu, prepared by the co-chief scientist Falcini himself, kindly assisted by a French planktonic foraminifera researcher. Should you ever consider joining an oceanographic expedition, above everything else make sure that there are Italians on board!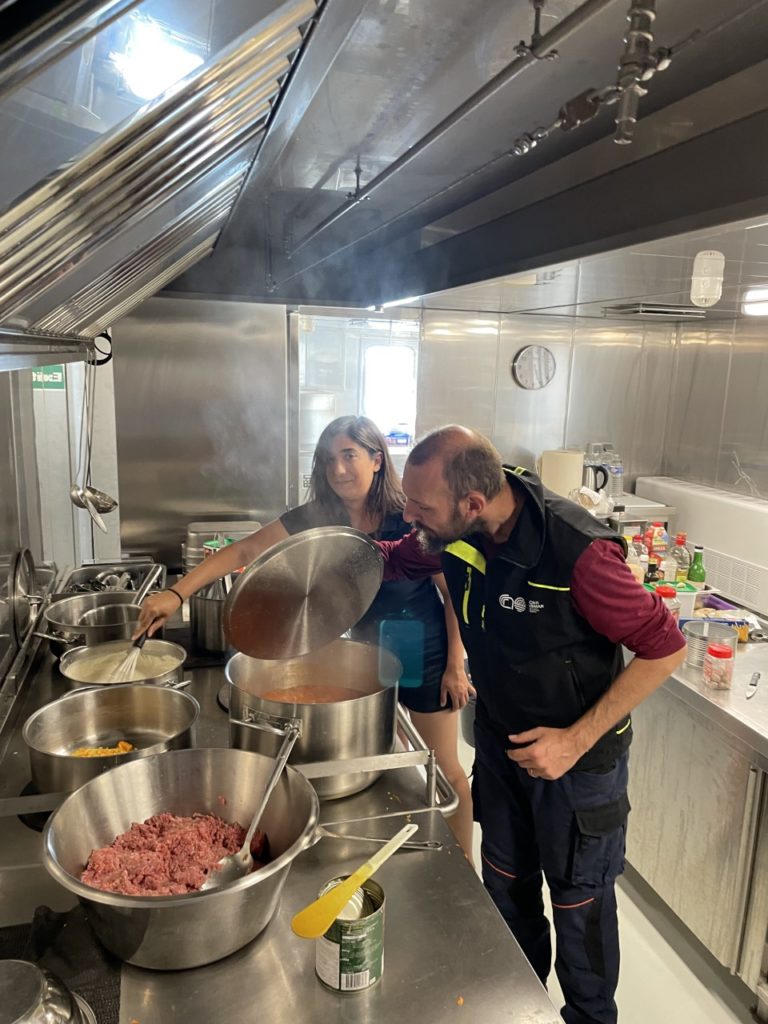 Cleaning and packing
Most of this final day was monopolised by preparations for disembarkment. This meant to turn, within just a few hours, a research ship in full operational mode into an almost empty ship as if nothing had ever happened. It involved to dismantle all lab installments, pack up all lab equipment, store all samples for safe transport, clean all cabins and labs, clear all invoices, move all movables onto deck, lift them – including the heavy sampling gear – from deck to dock and from there into vans and hangars, and get everything on their way to their respective labs and depots throughout in Europe. (A time lapse video on Twitter gives a sense of the buzz). A logistical challenge, mastered completely smoothly and safely by team and crew – kudos!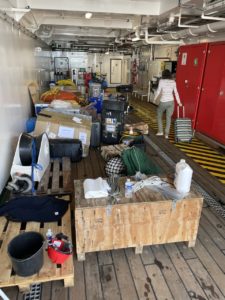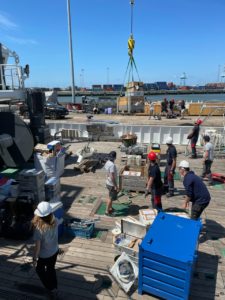 A forward look to be looked forward to
With the ship vacated and gear stored for transport, the co-chief scientists assembled the team on the quay for a final debrief with content reflections on the week's achievements, some emotional notes of thanks, and visionary outlook on what might lie ahead. It is safe to predict that ahead lies ample lab work to tease scientific findings out of the samples and data collected during the week. Additional ideas were raised for turning the end of the expedition into the beginning of breakthrough-progress for the health of our European marine waters. They included to hold a post-cruise meeting in autumn to compare first findings and to explore follow-up cruises with similar methodology but in different regions and sea basins of Europe.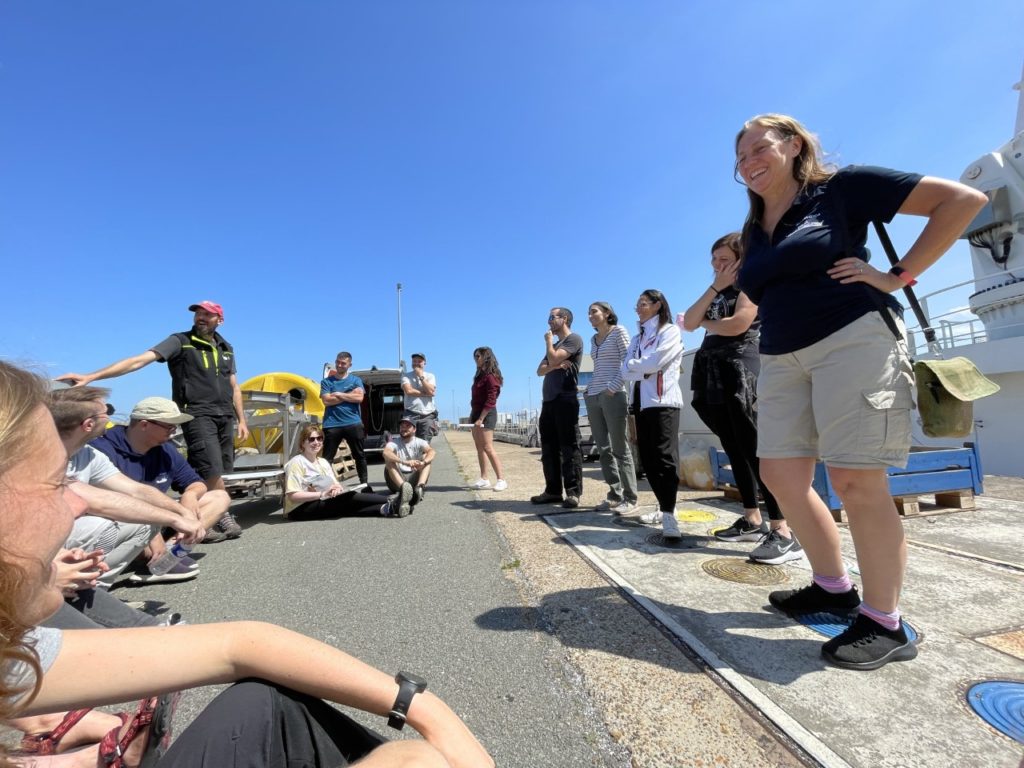 Sketching amidst among unloading bustle
With the ship buzzing like a beehive from people cleaning and packing, the day didn't offer the artist with much quality time for devoted painting. And the cleaning and packing obviously involves everyone, artists included, keeping Sarah busy wiping off colour stains and sweep rubber crumbs. Nonetheless, during the unloading process in the harbour she found a safe spot and the inner peace to install herself for some sketches for later finalisation. Watch out for the online exhibition that JPI Oceans is determined to set up with the materials sketched, drawn and painted during this cruise!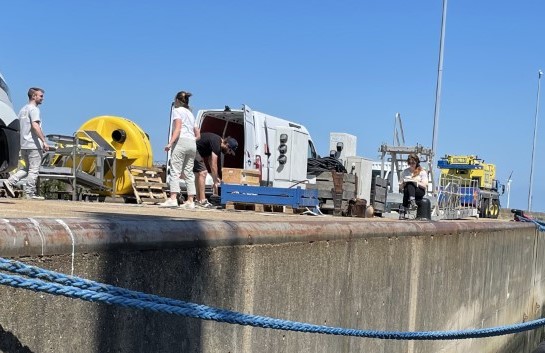 Closing the logbook
The scientific team on board of the RV Belgica for this North Sea expedition says goodbye for now. Following JPI Oceans' core idea of synergy from transnational collaboration, the team's farewells come in Flemish, French, Italian and Maltese: tot ziens, au revoir, arrivederci, and saħħa!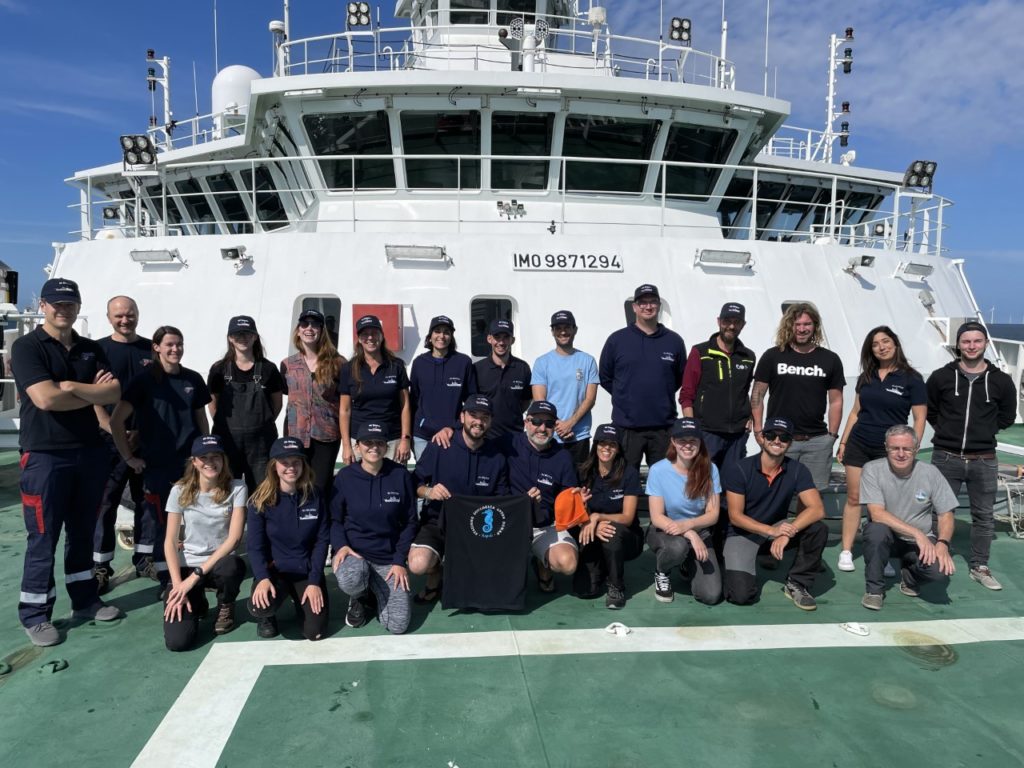 The on-board art & communications team from JPI Oceans adds German to the polyphony. Auf Wiedersehen from Sarah-Marie Kröger and Thorsten Kiefer. We enjoyed sharing information bits, audiovisual impressions and artistic depictions from this first expedition of the Science for Good Environmental Status (S4GES) Joint Action of JPI Oceans. Combining research, art and outreach at a cruise was novel for us. It seems to have been received with appreciation that encourages us to consider the model again for future activities of S4GES and JPI Oceans. If you want to reinforce this, just react to our social media content (kindly, of course …).
Text by Thorsten Kiefer (JPI Oceans) & Federico Falcini (CNR), Images by Thorsten Kiefer (JPI Oceans)
Other blog posts in this series
S4GES at sea with RV Belgica (part 1)
S4GES at sea with RV Belgica (part 2)
S4GES at sea with RV Belgica (part 3)