The Bewick's Swan is really a beautiful bird. It is elegant, graceful. His social behavior is fascinating to observe. The parents care for their young for about a year, they migrate, winter together. Adult relationships are complex. They often communicate with each other with very melodious cries.

They sometimes intimidates each other, opening the wings, raising the neck, chasing each other.
They alternate periods of feeding and rest. By far, in polders of Flanders or the Netherlands, they look like pure white flakes. But in the evening, invariably, they fly off in well-structured flight to join their roosting place located on a large body of water, sometimes situated dozens of kilometers from their feeding site. As much as they are (relatively) tolerant to human activities during the day, they are on their guard after the arrival of darkness seeking to protect themselves from terrestrial predators by sleeping on water.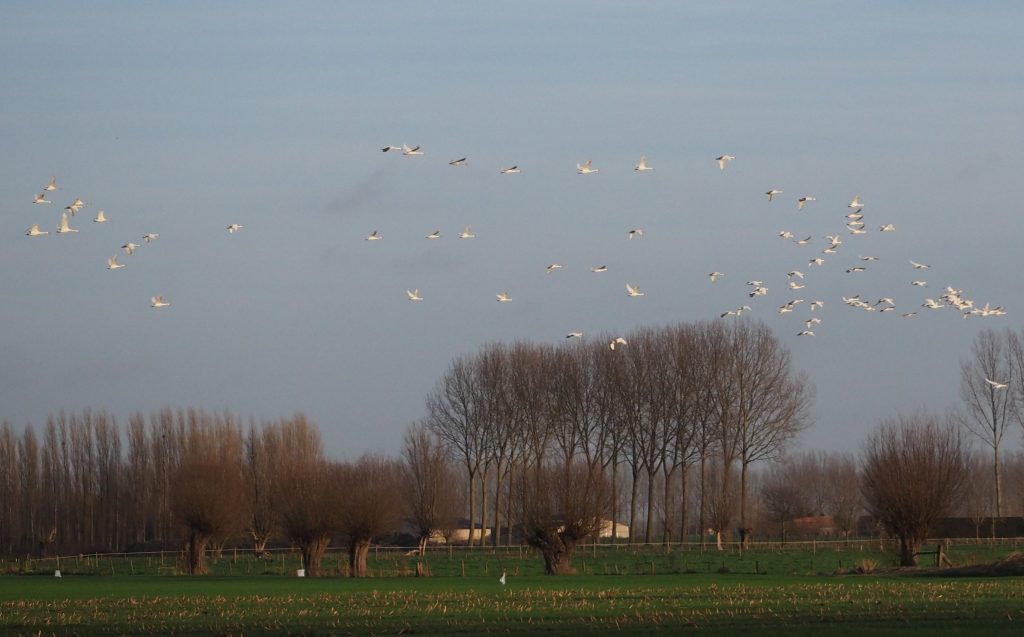 An idyllic situation? Not really. The number of Bewick's Swans wintering in the North Sea area (from East to West in Poland, Germany, Denmark, Germany, Netherlands, Belgium and the British Isles) fell by 30% between winter 1994- 1995 and winter 2009-2010. The data of the last comprehensive count conducted a year ago (in January 2015) are not yet available. It seems that the negative trend has continued.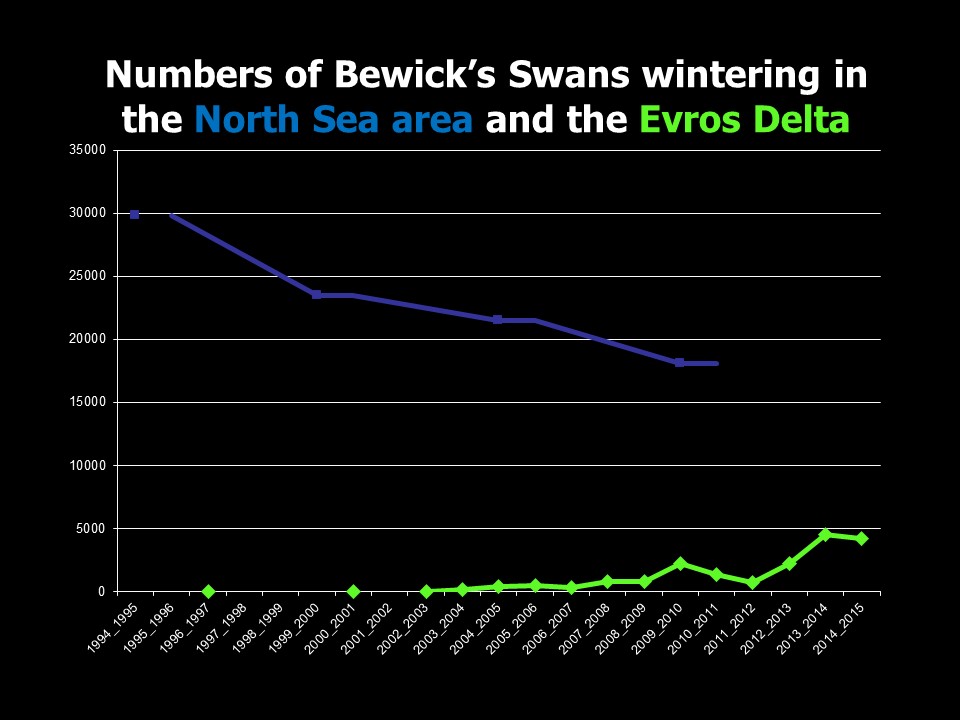 What are the reasons for this decline that can be described as catastrophic? They are largely ignored. But several worrying facts are observed: Bewick's Swans wintering in the North Sea are have few offsprings (cygnets) in comparison with populations wintering in China and Greece. Over the last 10 winters, the average proportion of cygnets was 10.4%. The recorded maximum was 16.6% during the winter 2012/2013 and the minimum of 4.7% (which is very little!) in winter 2007/2008. These data were collected largely through hundreds of volunteer birdwatchers who count and observe the swans each winter. Furthermore, the British ornithologists of the renowned Wildfowl & Wetland Trust made a chocking statement. Since 2000, they X-rayed 47 Bewick's Swans during ringing operations conducted in England. Among them, 22.7% contained lead shot. This suggests that despite their status of strictly protected species in the European Union and Russia, Bewick's Swans are still regularly poached. Finally, and here are the Dutch ornithologists from the Institute of Ecology (Wageningen) who are leading, we observe that Bewick's Swans regularly change food in recent winters and most of these are linked to human activities: meadows, plowing beets, potatoes, corn stubble. This behavior is it indicative of an unstable situation, unfavorable to swans? Studies are underway. And then there is the arrival, gradual but fast, of thousands of Bewick 's Swans in the Evros Delta in Greece. Is it there a cause and effect with the decrease of Bewick's Swans in the North Sea area? Is it a population shift? Is this a good – or bad news? It is this that try to understand the Belgian, Russian and Greek partners this program.
We must quickly understand what's going on!